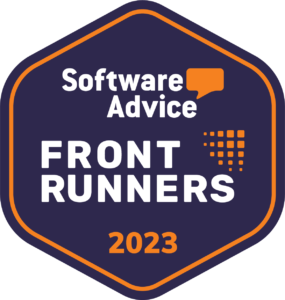 We're thrilled to share that eShipz has been named a top-rated software solution in the newly released Software Advice's FrontRunners Report for Top Logistics Software of 2023.
This report evaluates verified end-user reviews, positioning the top-scoring products based on their usability and customer satisfaction ratings for small businesses. (Know more about the methodology here)
eShipz has earned an incredible overall rating of 4.5 (out of 5). Big thanks to all our users who love us so much! It would not have been possible without your constant support.
Here's what one of our Founders Mr. Shashi Shekhar Tripathi has to say about these incredible achievements: "At eShipz our focus has always been on our customers first. Being a start-up in a competitive ecosystem, we knew that we need an edge, and we realized that the biggest edge an organization can have is its customers. They are both advisors and our brand's ambassadors".
We have actively listened to what they had to tell us, via suggestions and feedback and designed our platform to incorporate these feedbacks.The result is a robust and innovative platform, that is both user-friendly and extremely easy to navigate. This coupled with our above-and-beyond customer support team has been the main reason for this recognition. We are extremely humbled and honored by the support and words of our customers and look to the future with the promise of innovation and technological breakthroughs.
Check out what our happy users have to say about us:
"My overall experience is awesome. We were shipping our Insurance documents to customers through local couriers and it was a headache. But now, with eShipz it became so easy to ship documents directly to customers in simple steps with a guarantee of secure delivery." – Shovesh
"My overall experience is good. In our company, we have used eShipz's services to ship our shipments outside India. International shipping with eShipz is a bonus point for sellers. Low cost, fast delivery, real-time tracking really works in eShipz." – Rajkishore
"The ease of tracking the packages and on-time delivery of packages across the globe is the most reliable company I have come across. Hope they continue this services with the latest technology incubated." – Lokesh
Want to share a review? Click here
About eShipz

eShipz is a Unified Shipping Automation Platform, which empowers businesses to improve their Supply Chain Efficiency by up to 150% and reduce their overall logistic costs by as much as 20%. Solutions like Multi Carrier & Sales Channel Integration, Indenting, Universal Shipping API, Digital Proof of delivery, and Powerful Customer Engagement, and diverse range of customer engagement tools such as branded tracking page, SMS, WhatsApp and email notifications, provide businesses with the full spectrum of offerings for their logistics needs under a single dashboard.
In a short span of just 2 years, eShipz has integrated with 120+ domestic and international carriers, certified by Blue Dart and FedEx as compatible solutions, shipped over 20+ million shipments and been trusted by over 300+ clients such Maruti Suzuki, TVS Motors, Arvind Fashion, Phone Pe, Blue Dart, Avon & Atomberg to name a few.
---
About Software Advice
Software Advice is the leading online service for businesses of all sizes navigating the software selection process, providing free, personalized software recommendations that meet their business needs. Software Advice features objective research by industry experts and reviews from validated users, saving buyers time and resources. Software Advice is a Gartner company. For more information, visit https://www.softwareadvice.com/
---
Disclaimer:
The FrontRunners badge is a trademark and service mark of Gartner, Inc. and/or its affiliates and is used herein with permission. All rights reserved. FrontRunners constitute the subjective opinions of individual end-user reviews, ratings, and data applied against a documented methodology; they neither represent the views of nor constitute an endorsement by, Software Advice or its affiliates.