India has emerged as one of the most important markets in the world, with the second-largest internet access provider. Being stranded at home due to the pandemic fueled a desire to simplify life and work at home, resulting in a large rise in shopper spending.
Magento is an open source ecommerce platform that provides online retailers with a scalable shopping cart framework as well as control over the appearance, content, and functionality of their online store. Magento's marketing, SEO, and catalogue management tools are all extremely strong. Magento is one of the best ecommerce sites available today, with editions ranging from community open source to large-scale enterprise SaaS-based systems, there's something for everyone. Magento's instinctive administration interface offers advanced marketing, search engine optimization, and catalogue-management tools to monitor the look, content, and functionality of each retailer's specific eCommerce website, with efficient and versatile features.
With an order fulfillment system that allows for versatile, easy, and cost-effective delivery, business owner's can bridge the gap between online and in-store shopping. Using the built-in responsive design reference themes, you can quickly build a mobile-friendly website. Themes are user-friendly, customizable, and of high quality. Magento is made to be used as an application for people who aren't programmers. Magento's scalability enables small businesses with a few products and basic requirements to quickly scale large number of products and complex custom actions without switching platforms. The platform blends rich, advanced functionality, enterprise efficiency and powerful business tools to keep you ahead of increasingly complex commerce operations and growing consumer demands. It was designed for rapid and cost-effective innovation.
ADVANTAGES OF USING MAGENTO –
Multifaceted content Management
Shop owners can create and customize their offerings on the fly with an intuitive, visual-based page editor. The ability to switch to a user-friendly content management interface is useful for those who don't know how to code but still want to manipulate simple shopping cart functionality.
Spacious & Powerful
The Magento platform can accommodate more than 250000 orders per hour and can support up to 500,000 items on a single site. That means there's plenty of space for future expansion between shopping carts on the same website. Magento has unique hosting requirements for optimal performance and load speeds due to its scale and complexity.
Mobile adaptive configurations
Magento shopping carts are responsively designed, allowing the websites to be viewed on smartphones, laptops, and other mobile devices with ease. This meets the needs of a consumer buying trend that is increasingly moving to mobile devices.
SEO Expertise
Magento does an outstanding job of allowing more organic traffic to pass in. The platform was created with SEO in mind, giving your goods a greater chance of being found on Google, Bing, and other search engines.
Easily integrate with third parties
Shop owners may also integrate Google Analytics and other third-party data analysis tools into their sites using the platform.
Analytical filtered search
Enhance the user experience with dynamic search features that sort items based on a variety of criteria. Magento makes use of a custom search terms cloud, product tag filters, product ratings, recently compared and viewed items, and the ability to customize search with auto-suggested terms.
It helps you save money and time
Magento is an open-source platform with a large library of custom extensions created by the global community. This means you'll be able to share and use tools with other Magento users to avoid having to start from scratch in most cases. You can also use one Magento to manage multiple ecommerce stores in multiple languages & many currencies.
Adjust security permissions as required
With options to configure several levels of security permissions, you can keep your site secure and control internal access. Data Security is included as usual, as are CAPTCHA-enabled login screens and a secondary password prompt for added security against unauthorized access.
Who wouldn't love just the icing on the cake?!
Now that you are aware of the multiple benefits of using Magento, let's take a look at how integrating your Magento store with eShipz can help you with additional benefits.
How to integrate Magento with eShipz?
eShipz top features for ecommerce merchants include label generation, NDR & Customer engagement tools. In a competitive eCommerce market, the merger of eShipz and Magento offers a scalable, attribute rich shipping platform that increasingly addresses ecommerce merchants' need. Sellers can easily optimize their shipping roadmap or work flow by using our cutting-edge automation tools. In order to elevate post purchase experience, we offer amazing customer engagement tools. This isn't just it. Our branded tracking tool can also help your business for upselling & cross selling thereby helping you to generate more revenue. Doesn't that strategy sound like an icing on the cake for your business?!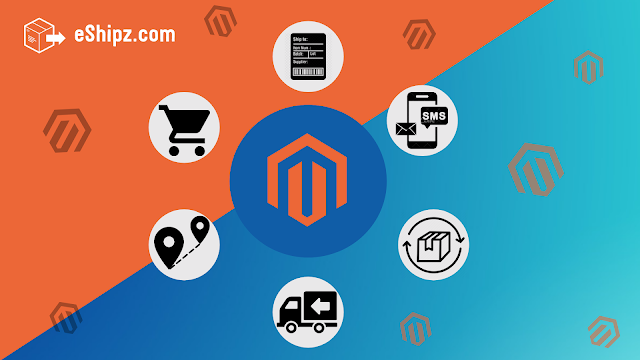 When you connect your Magento store to eShipz, you will be able to –
Sync all your orders in one click. ·
Generate Shipping labels seamlessly.
Generate all shipment related documents automatically and effortlessly pre-fill all of the documents you'll need for a successful shipment.
To increase customer satisfaction and purchases, have the best post-purchase experience by using the Branded tracking tool.
Access to our large courier network.
Steps for Integrating Magento storefront with eShipz
If you have your online store on Magento version 1.8.0.0 or above, then you can easily integrate Magento with eShipz.
API credentials from Magento store are required. Open your Magento 2 admin panel. First, go to System > Integrations.
Here, you can find your existing stores or can even add New Integrations.
Now, visit https://app.eshipz.com/integrations/channel-settings and under the Integrations tab, select Sales Channel.
Next, choose your correct store version (eg. Magento 2).We always recommend you to run the latest version for a seamless browsing experience.
After selecting Magento, eShipz will require the following from you-
a) Store URL
b) Consumer Secret Key
c) Consumer Key
d) Access Token
e) Access Token Secret
Under States Codes you can find –
a) New
b) Pending payment
c) Processing
d) Complete
e) Closed
f) Canceled
g) Hold
h) Payment review
Important: For multiple State, please add all of those separated by a comma(,).
Save all the entered detail and now you are all set to enjoy the Smarter & simplified Enterprise shipping solution.
Follow the above simple steps and get great shipping services on a single console.