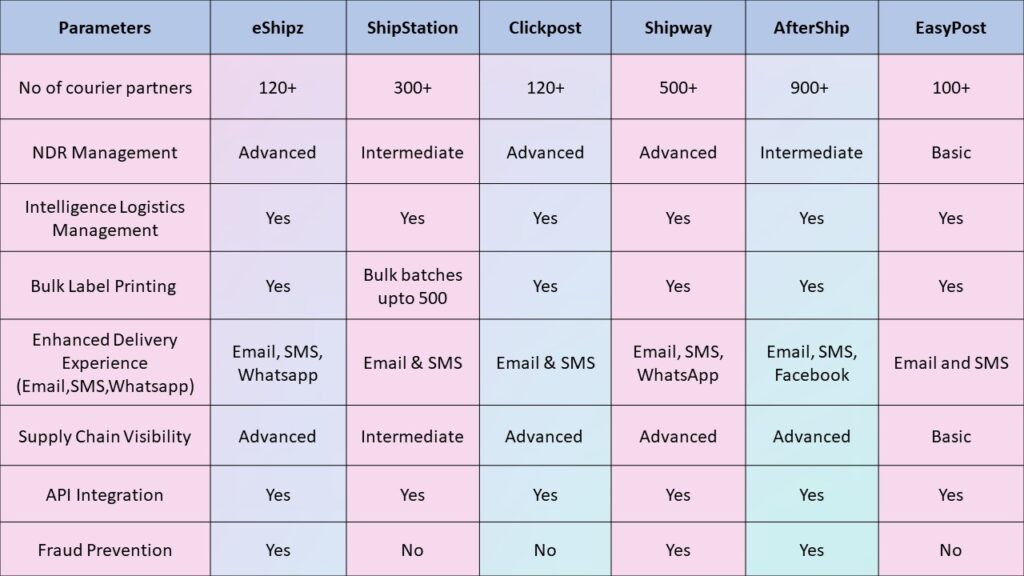 eShipz
With a plethora of advanced tools in the Logistics Management space, getting better with technologies and features every day, eShipz is easily a one-stop solution for businesses of all sizes, promising a simplified shopping solution and seamless delivery experience for the end-users.
The features include NDR Management, Intelligence Management, Bulk Label Printing, carrier communication, real-time analytical dashboard, return management, and more. eShipz has close to 100+ courier partners that make order deliveries seamless. The best thing is that the platform offers highly accurate supply chain visibility that helps businesses & customers prevent fraudulence.
Not just that businesses can also do bulk order uploading & label printing, thereby saving loads of time and effort and reducing the chances of errors. The platform is integrated with some of the giant marketplace channels including Magento, Shopify, WooCommerce, Amazon, Prestashop, and more.
Cherry on the cake you ask?
You as an e-commerce business owner no longer have to worry about order returns, as eShipz takes care of your entire Return Management cycle, offering immediate alternate instructions to the shippers for all the undelivered shipments.
What makes it so great to use?
The visibility of end-to-end supply chain processes and real-time tracking dashboard makes the platform so great to use. Explore more.
ShipStation

Shipstation is a web-based shipping solution that streamlines your online businesses' entire order delivery process. The platform consolidates orders from over 70 eCommerce channels, creates shipping labels, packing slips, and pick lists in batch, communicates tracking information to your customers, provides endless automation, filters, and views, wireless printing, a mobile app, and a lot more.
ShipStation is bundled with features like label printing, order tracking, shipment reports, barcodes, return labels and Product Defaults that allow you to automate your business and eliminate manual data entry. ShipStation is integrated with the following marketplaces like eBay, Amazon, Buy.com, Etsy, and more.
The integrations and inventory management are eye-openers for plenty of small businesses. Read more.
Why do customers prefer eShipz over ShipStation?
ShipStation, as a platform, is a bit complex for someone who's new setting the whole automations for the first time. Gone are the days when onboarding and implementation experiences were good to have. In today's SaaS world, they are must haves. If it's a prolonged process, the users are unlikely to stick to your platforms. This is where the users feel ShipStation can improve a bit Plus, if you're in a lower plan with some privilege limitations, be sure of not expecting great support. This is exactly where customers have started preferring eShipz. eShipz is a straightforward platform that is most suitable even for a layman with no extensive product experience. You get the best features for a considerably lower cost.
Sign up for FREE & Take it for a spin here:
ClickPost
ClickPost is another Logistics Intelligence platform in the ECommerce space. Some of the noteworthy features of ClickPost includes NDR Dashboard, Logistics Handling, Returns Management, integration with 120+ courier shipping partners, Multi Carrier Shipping, Integrated Tracking, Returns Management, COD Reconciliation, and more.
They are known to provide a delightful post-purchase customer experience that helps businesses reduce returns and convert one-time shoppers into loyal customers.
Alright! But why do customers prefer eShipz over ClickPost?
The platform, without a doubt, has excellent features and is known to provide a delightful customer experience, but the system is most suitable for medium and large businesses that need to invent their shipping operations.

If you are a small enterprise, you might have a tough time getting familiar with the product. Why worry when you have an amazing solution in place? Take eShipz for a FREE spin, evaluate carefully and efficiently, and come to a decisive conclusion. We're sure of creating an incredible user experience for you at every stage of the evaluation journey.
Sign-up for FREE here.
Shipway
Regarded as an e-commerce automation partner, Shipway is the most-sought software in the D2C space. The key features include Ecommerce Courier Tracking, Customer Experience, Order Management, Fulfilment automation, Returns Management, Inventory Management, Customer Feedbacks, NDR Management, Reconciliation, and more.
The platform further promises real-time delivery updates for businesses on Whatsapp, SMS, and Email that significantly reduced WISMO calls or Where is my order calls. It also offers a custom branding tracking page that supports multiple languages to help you overcome language barriers.
The platform triggers an NPS survey to every end customer once the order has been dispatched and delivered. This helps businesses to measure how happy and satisfied the customers are with the delivery experience. This will also enable e-commerce brands to know where exactly they stand in delivering wow moments to the end customers.
But Why is that customers prefer eShipz over Shipway?
The platform, without a doubt, has amazing features. But they are very specific towards big and very large businesses. Small businesses might have limitations in using certain features.
Why eShipz over Shipway you ask?
eShipz is a logistics intelligence platform that is more suitable not just for big enterprises but also for the small businesses. Any businesses regardless of size can make an effective use of the platform. Don't take our word? Hear it from our customers.
Customer Testimonial:
Aftership
AfterShip helps e-commerce businesses grow by delivering decent shopping experiences to their customers. The platform provides many automation tools that help businesses with sales, marketing, order management, shipment tracking, and more.
The platform further connects the global infrastructure of e-commerce and makes buying and selling accessible to everyone, regardless of location.
Why eShipz over Aftership?
Aftership's primary focus is on the big and large enterprises, while it's hardly beneficial for the small and medium-sized enterprises. But eShipz serves businesses, from large-sized to small-sized, with effective shipment solutions. Take eShipz for a spin and feel the difference yourself.
Wrapping it up!
The products in the Logistics Management space are aplenty. You have numerous options, with so many great products in today's technological world. New technologies are being driven to the fullest potential, platforms today are built with customers in mind, and user-friendliness is the central aspect that many logistics companies consider.
It's your job:
To think from a long-term business perspective of how effectively you can reap the product's benefits.
Do a thorough analysis of every feature and how it will solve your ongoing business problems.
See if the product would suit your business size, costs and subscriptions, support and services, and the list just goes.
EasyPost
EasyPost is a Shipping API that mainly aims to solve logistics problems for ECommerce businesses. The platform promises eCommerce businesses a delightful online shopping experience with its simple solutions.
Some notable features include adding carriers, generating shipping labels, tracking packages in real-time, and ensuring your shipments. They have a carrier technology that manages the headaches of eCommerce businesses and enables them an easy way of growing their businesses.
But why do customers prefer eShipz over EasyPost?
Some of the EasyPost customers have claimed that the integrations have failed to work at times, and the API calls are different and don't serve the purposes often. Here is precisely where eShipz easily stands out from EasyPost. With 100+ domestic and international carriers, integration done in less than 20 minutes ensures that you can start delivering happiness to your customers in no time at all.
Click here to know more about eShipz Features.
Good luck and happy evaluating!
FAQs
How does eShipz manage the entire logistics intelligence?
eShipz has an advanced Logistics Intelligence Management that controls the entire supply chain from one dashboard, with complete visibility from order confirmation right up until delivery. Furthermore, you can track multiple shipments from various locations, globally.
How can eShipz help businesses reduce returns?
eShipz sends you regular updates on the delivery status and alternate instructions from customers. Not just that it passes the data in real-time to the delivery partner, ensuring successful deliveries. This way eShipz successfully helps businesses reduce returns on a large scale.
What are the channels will eShipz use to notify the customers?
With eShipz, you can notify customers via email, SMS, and WhatsApp. And you have a branded tracking page to ensure the customers always know where their shipments are and when to expect them.
How many domestic and international couriers do eShipz partner with?
eShipz partners with 100+ domestic and international carriers. The best thing is that you can do any integration in less than 20 minutes and ensure that you can start delivering happiness to your customers in considerably less time.
Does eShipz have partnerships with courier services?
Yes. With eShipz, you can choose from 120+ courier services with pre-integrated carriers. You can also configure order sources, courier accounts and improve supply chain visibility, all on one platform.