What is Branded Order Tracking ?
Customers these days are keen to know every phase of their product's journey until the time the product is delivered to them. Majority of the buyer's consider information related to product delivery to be one of the most crucial information provided to them during the product journey. It can change existing shipment related emails more powerful by linking the carrier tracking information to your own branded platform. Order processing with branded tracking provides ease of access tracking to customers. It also helps in leveraging brand recognition, reducing customer queries and customer retention.
Every business focuses on retaining customers and as they are greater assets who should be valued & managed properly. It's a symbiotic relationship where if the brand keeps the buyer updated about the order status, can the brand gain customer's trust and generate more revenue in this process. This amazing platform allows your customers to track & trace their parcel using a portal which allows your brand to re-engage them. Branded Order Tracking page is a perfect resource which every ecommerce brand should own in order to get the multiple benefits out of it and providing seamless post purchase experience to customers.
What would you miss, without a Branded Tracking Page?
e-Commerce brands might lose out on loyal customers due to inefficient tracking. When customers do not get to track their shipment journey, they tend to lose trust on the brand. A brand loses control over customer's post purchase experience when customers are re-directed to the carrier's tracking page. Why let your customers preview highlights of the carrier company when you can totally re-engage them when they visit to track shipment status.
If the brand doesn't own a branded tracking page, then they miss out on a huge opportunity of increasing conversion by getting customers back to their website. For an eCommerce brand, providing excellent post purchase experience is vital in order to retain customers. This can be done only when your brand has its own tracking page.
Benefits
Imagine having your own customized branded tracking page in line with your business goals & initiatives. Apart from providing amazing tracking experience to your customers, you can also create call to action. Majority of customers tend to visit the tracking page very frequently and it's a perfect brand touch point.
It allows buyers to track their orders on a page that isn't that of the courier company but is the one tailored by the ecommerce brand itself. They do not just provide the buyer with order status details but also enables the brand to engage with their customers in re-purchasing. This feature can be used for marketing (Up selling & Cross Selling) of your products. Customers who have purchased a product already can be targeted to spend on products that complement their purchase.
Who wouldn't wish to have a larger fan base on social media platforms?! Your social media handle too can get visibility if you wish to put the links on the tracking page. E-Commerce brands can also use the branded order tracking platform to highlight about the discounts or sales that they are running at that moment. A referral CTA button can also be part of the tracking page which would redirect a buyer to refer friends to your brand and getting discounts or freebies.
What better way to create a wonderful post purchase experience for your customers than owning a branded order tracking page?
Many sellers have benefitted from using this feature. Let's jump into getting quick knowledge about what all can be included on this page.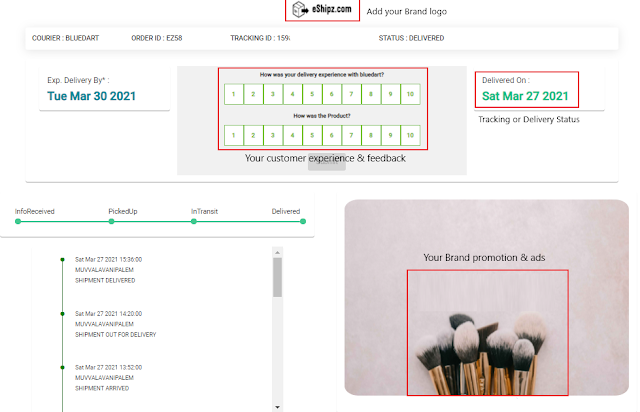 1. Shipment or Order Tracking Status:
The name says it all. Main purpose behind a branded tracking is to keep the buyer notified about the shipment status along with your order details like Order number, SKUs or delivery address etc. Updating the buyer with timely status of the shipment can in turn reduce customer queries, gain customer loyalty thereby retaining customers. It is only possible if customers feel happy and satisfied.
With eShipz's Branded order tracking page, your customers can get to know the estimated delivery date along with the status of the order. This can bestow a sense of reliability since customers will get access to order related information.
2. Your brand's Trademark: LOGO
What better way to grab attention of consumers and spread brand awareness?
A lot of consumers judge the brand by its appearance. A logo which is perfectly piqued is the best form of brand identity/appearance. Whenever a brand tends to communicate with its customer base, logo is something that the customers look out for as most of the times it's the logo which the customers remember.
When you can have your own tracking page and use it for further marketing then why redirect your customers to use courier companies tracking platform?! Courier companies only enable the tracking feature for your customers but don't let the seller's identity to be on the tracking page instead the courier company uses their tracking platform to highlight about their offerings.
eShipz can create a perfect tracking page for your brand & your customers. Now all the features and information that goes up on your tracking page can be as per the seller's instructions.
3. Web Banners/ Ads:
Customers these days are indulging more in window shopping than visiting a brick & mortar store. So advertising about your ecommerce brand is certainly going to attract more traffic to your page. Customers tend to visit tracking page a lot of times after the order is successfully placed, adding a digital banner or product links to branded tracking page can provoke customers to indulge in re-purchasing of the products. More than 70% of customers visit the tracking page as many times as possible to stay updated about their order. In order to be successful at getting more conversions from the tracking page, as per your customer's browsing history, you can recommend products which the customer has in his wish list or cart but did not purchase.
4. Help Desk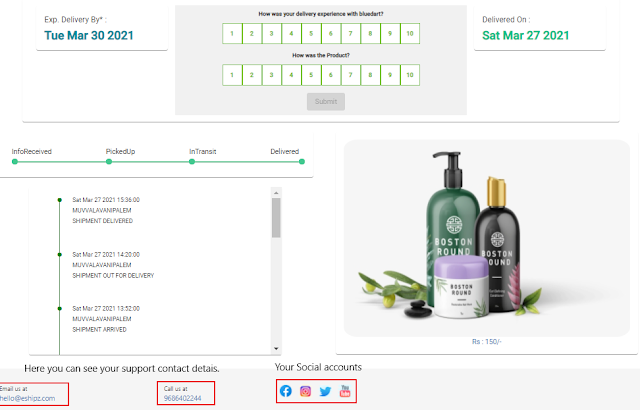 Help desk is the perfect platform to offer support to customers. After all, it's your product which the customer is waiting for. This will make the customer feel secure about his order.
Your job doesn't end the moment you send the shipment rather extending support even after the product is dispatched, giving them post purchase experience that can make you one of the most loved brands.
eShipz can customize a brand-new order tracking page wherein contact details for support related query can be added and this can help to gain customer trust and loyalty.
5. Track what every customer thinks of your brand
Branded Tracking page can be used to take feedbacks from customers in the form of ratings or reviews. This helps to maintain a record of how many happy customers you have and which all aspects you need to improvise in order to provide seamless experience to all your customers. These feedbacks are not just words or ratings but are all indications of your hardwork. You can also get feedback from your customers regarding "the delivery experience" .Why customize a SMS or email separately for this when you can use the branded tracking page to do the same?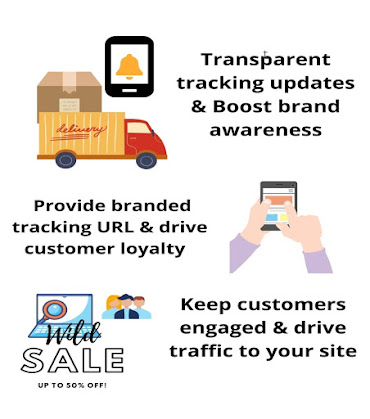 About eShipz
At eShipz, we are digitizing logistics for SME's and helping them to improve their supply chain efficiency, provide better visibility and reduce overall logistics spend. With Direct Integrations with your stores, Sales Channel & Carriers, eShipz helps Enterprises to reduce Order Processing time by 80% and reduce Logistics cost by approx 15% and also helps in building best customer experience. With eShipz, you can keep your customers from across the world updated about their shipment and do a lot more to generate revenue and retain customers.
Take a free Demo with eShipz in order to carry through all these features to your amazing website and attract happy customers.