On one hand, the global pandemic has tremendously affected the retail market place and on the other hand consumers are getting more inclined towards digital centric shopping. E-commerce business is booming and the online shopping experience has been transformed by leaps & bounds. E-commerce operations were grappling to keep up with rising demand and this is when order processing tool came to rescue. Order Processing in simpler terms refers to a workflow involving receiving, recording, assembling orders for shipment including the last mile delivery of the logistics.
Ever since the inception of online market place, there are major logistic inefficiencies being faced by ecommerce brands. One of the major challenges of all times is dealing with increasing volume. Complexity grows exponentially with volume and this makes manual segregation of sales invoice, box barcode Stickering, AWB creation major cumbersome task. Not only this, slow inventory movements, visibility issues are also bigger problems being faced by them. Manual work at warehouse consumes a lot of time and the order delivery gets delayed leading to customer dissatisfaction. Inefficient tracking may push a business to hire work force for keeping customers updated about their order. Lack of visibility poses a main problem to many clients.
Order Process Workflow –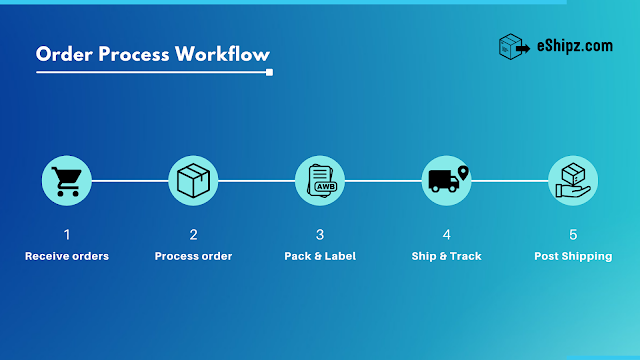 In order to enhance customer satisfaction, it is vital to automate order processing. Business process automation is the use of technology to accomplish recurring tasks or processes in a business where manual effort can be replaced. It is done to reduce costs, increase productivity and streamline operations. Manual label creation leads to a lot of errors and this can lead to delay in shipments. If the error isn't addressed, it could mean that the package gets shipped with an incorrect label. Automating order processing can help eliminate the tedious methods like endless paperwork, missing out on tasks, lower productivity, errors in purchase order and employee dissatisfaction due to related factors.
Applying business process automation for fulfilling the ecommerce orders will ensure smooth transitions of tasks and provide visibility into the status of the process. Integration helps sellers to forget the monotonous methodology of manual data entry by helping to sync all orders from multiple channels and displaying it on one platform.
Etailers are not selling on their stores alone but are stretching their arms across multiple marketplaces as well. Therefore, while selling across more than one channel, order management and fulfillment can become extremely complicated. Printing packing slips and shipping labels coming from online stores and marketplaces can be daunting. This is the primary reason why more and more sellers are moving towards the label printing & tracking solutions. This way the store owners can speed up their process and print bulk labels in a matter of seconds.
eShipz and Order Processing:
eShipz acts as a bridge that integrates your store with our application and allows you to import orders to the app and complete the shipping process just on a single console. Customer loyalty comes when a customer feels convenient and gets the order delivered fast. Brands who have their online presence can automate the domestic & international shipping process.
eShipz offers both channel and carrier integration. Configuration of both offline & online orders can be done within less span of time. Channel integration can be done by syncing your orders from multiple marketplaces by using eShipz integration feature that helps send shipments smoothly using a single dashboard.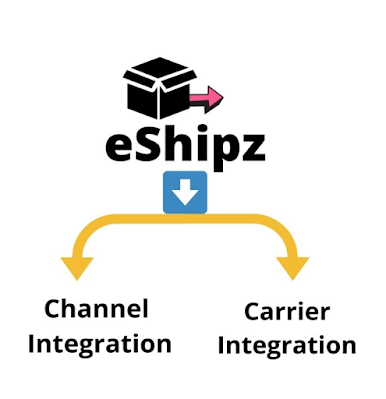 Starting from placing the order to getting the order delivered, order processing comes into picture throughout. The factors that play a major role in making order processing a success is reliability & accuracy. Order processing has a lot of process which were once upon a time done manually and this led to human errors resulting in late delivery and customer dissatisfaction.
Order processing has a direct repercussion on consumer's decision making and the process begins after customer completes purchase. Consumers shift their focus from one brand to another when they don't find desirable options and this puts various brands at risk of losing their business.
Let's get into a detailed reading of the features and how would they prove beneficial to your business in the long run.
ORDER PROCESSING solutions / PRE-SHIPPING solutions includes-

ORDER FULFILLMENT / POST SHIPPING SOLUTIONS includes –

CENTRALIZED DASHBOARDS –
This feature will help to streamline and automate the entire eCommerce operation by providing with many tools that are necessary to grow your business.
INTEGRATION
Channel & carrier integration both are quintessential in order to automate the order processing work flow. By integrating your channel and carrier, you can save a lot of time. Automating the shipping process instead of manually entering the order details helps to gain accuracy, efficiency & customer satisfaction
ONLINE LABEL PRINTING
This feature enables the user to generate shipping labels automatically soon after the order sync. eShipz platform allows to generate branded labels with Company's logo.
BRANDED TRACKING PAGE
Not just that, eShipz allows you to handle the tracking by providing branded tracking pages as well. Our application will ensure that email and SMS notifications are triggered to the customers which will redirect them to the tracking page that is completely branded as seller's to give that wonderful experience and post purchase engagement with the customer. This feature can be a game changer as it has the ability to bring more and more repeated customers, and entice them for a repeated purchase.
Tracking widget will help the company to allow their customers to keep track of their orders on their own website instead of directing the customer to the carrier's site. The tracking number is entered on the widget to stay updated about where the order has reached and within what span of time can their customers expect it to be delivered.
NON DELIVERY REPORT (NDR)
This tool helps to get a track of the report of all undelivered shipments on a single platform. This makes it easier for brands by eliminating the need to log in to multiple carrier accounts to check for the NDR. Immediate action can be taken on eShipz app just with a click of a button to either Reattempt or Return. The process is completely automated and helps to reduce returns percentage to a great extent.
PRESCRIPTIVE ANALYTICS
It helps to make proper analysis by getting your hands on tools that are quintessential in order to make more informed decisions.
Not only this but customer experience can be improved getting real time insights thereby taking the edge off unforeseen situations.
CUSTOMIZED MAIL / SMS TRACKING ALERTS
It is highly imperative to communicate the status of the package with the buyer. Hence a dedicated feature is created to keep track of shipments in an automated manner via text message or email. This gives the visibility of the product journey to the shopper and keeps him worry free. The mails and SMS's can be customized as per the brand's requirements.
Automation:
eShipz.com – An Intelligent Shipping Application that allows you to prioritize your order processing in a number of ways & to ship orders in bulk using a single platform. eShipz dispatch management solutions wants enterprises to remain focused on their core business while eshipz takes care of their shipping. Also, it can help reduce logistic cost by optimizing shipping resources.
How to streamline this process?
An order management starts when a shopper places the order, continues through picking, packing, shipping process and finally ends with order delivery. Order management is the overview of the processes in fulfilling an order.
e-Commerce brands who want to focus more on generating revenue than on paying full attention to order processing should consider outsourcing the same. eShipz is a cloud-based platform which came into existence in order to simplify the logistic operations and transform the existing experience of ecommerce brands and deliver happiness to customers.
Below are the steps to follow to process your orders with eShipz-
Step 1: Receiving an Order
The seller receives e-Commerce Orders. The order's page of your ecommerce platform (shopify, woo commerce, magento, etc) shows the new orders received. The customer receives the order confirmation mail.
Step 2: Processing the Order
Integration of shopify, woo commerce, magento or your preferred channel helps you to sync error free data and eliminates the need to get tasks done manually. Once the integration is done, orders automatically sync and reflect on eShipz application.
Step 3: Packing & labelling
Once your orders are packed appropriately and sealed, a shipping label has to be generated. A label including customer name, destination, weight, shipping ID, etc is created automatically with the help of eShipz application and should be affixed on the package by the shipper. Shipping labels can also be generated with your brand's logo using eShipz. Also, you can pre-define shipping rules before heading to schedule a pick up.
Step 4: Shipping & Tracking
Next, comes shipping your order. Integrating your own carrier accounts with eShipz, you can start shipping your orders as soon as you import the orders from your store. When you outsource order processing to eShipz, you get the advantage of automating the shipping process which can speed up the shipping time.
Once the order is shipped, tracking information is shared with your ecommerce platform which you can further share with your customers. Any customer would expect the visibility of the package soon after the order is placed. This is when you can keep your customer happy by sending the real time updates of the package post purchase. And eShipz can do this for you effortlessly.
Step 5: Post Shipping
This is the step where the order is successfully delivered or returned and how a seller manages this. In case the parcel is undelivered, NDR feature can be used to send instructions to carriers immediately. Bulk action for all undelivered products can be taken by doing excel upload to re-attempt or return the parcel to origin.
At eShipz we provide both pre-shipping (Centralized dashboards, integrations, print labels) and post shipping solutions (Branded tracking page, Tracking widget, Non –delivery report, Return management, Branded & customized email & SMS alerts and prescriptive analytics). There are endless things you can achieve using the application. eShipz doesn't only help in managing your orders but you can completely outsource order processing and focus on your core business.