If you are in eCommerce business but just lack the tools required to set up and run the store, then Shopify is your best companion or savior. It is a kind of platform which offers all necessary features required for any successful ecommerce business. The best part is that it handles not just ecommerce but POS sides of process as well. It amazingly helps those sellers with absolutely zero or less expertise to start from scratch. But what about shipping for your shipping store?
For any store owner / entrepreneur setting up an online shop is extremely challenging. Since Shopify is already a hosted solution, your work is minimized and you will clearly have no worries of hosting or installing. If you are a seller who is not into tech, IT or coding but still would want to set up on online store then Shopify is the place. Not just that, it provides you with access to customizable themes that gives you full freedom to display your creativity.
Here are some key features:
Quick and easy to use – the platform takes care of web-hosting and coding issues, that saves time and expenses.
Unlimited Client Support via email, live chat or phone 24/7.
Ready-to-use Customizable styles and designs
It has a huge App market for everything including SEO and marketing tools besides order fulfillment, shipping, inventory, warehouse management, accounting etc.
Highly Affordable.
Nearly 1 million firms use Shopify to merge their sales wherever they sell.
It is a most popular in India under Hosted Solution category.
It's a known fastest growing online store builder:
When it comes to online store solutions, in the last few years a few companies have acquired more market share than Shopify over a period but none of them have grown as fast. Here is a quick glance on the growth of each solution over the years.


2014
2015
2016
2017
2018
2019
2020
Shopify
0.10%
0.30%
0.40%
0.60%
0.90%
1.40%
1.90%
Magento
0.90%
1.10%
1.20%
1.20%
1.20%
1%
0.80%
PrestaShop
0.40%
0.50%
0.60%
0.60%
0.60%
0.80%
0.70%
OpenCart
—
0.30%
0.40%
0.40%
0.40%
0.40%
0.50%
BigCommerce
—
0.10%
0.20%
0.20%
0.20%
0.20%
0.20%
Shopify's popularity has grown multifold in the past few years, that is mainly cause of its out of the box features, easy to install, convenience in store development, automation, reliability on the platform, smooth function and so on and so forth.
Below are some highly interesting stats of Shopify to look at–
It's the most searched ecommerce solution as per Google and most popular ecommerce platforms on the planet, with almost 20 percent market share.
For helping resolve the security issues, Shopify has paid over $850,000 to more than 300 ethical hackers.
The average growth of Shopify plus merchants is 126% year-over-year.
Shopify has made its mark by supporting 600,000 plus businesses in about 175 countries.
Shopify originated from Canada but its mostly used in Asia, North America and Europe.
Shopify apps are having a substantial share in the platform's power.
More than 4100 applications are offered in the Shopify store.
Facebook is biggest and number 1 driver of social traffic and sales from social media for Shopify.
There are over 800,000 Shopify powered stores. It is a top eCommerce platform with POS and warehouse management as well.
To find the popularity of any business or entity, Google Trends is the place to count on. They are a good indicator and we can clearly see how Shopify related searches are far more common than for other store builders. The statistics of Shopify speaks for themselves.
A recent analysis through Ahrefs seems to support these findings, where we can see the global search volume on Google:
Shopify: 2,600,000
WooCommerce: 450,000
Magento: 344,000
Prestashop: 296,000
BigCommerce 119,000
Fulfilment and Shipping with Shopify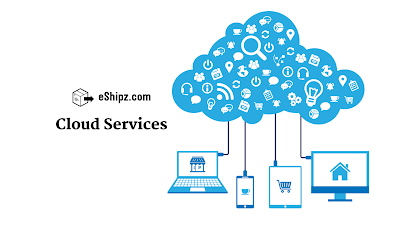 eShipz is powering convenient Shipping for your Shopify stores. eShipz is good at providing reliable shipping with a specialized service for Shopify sellers.
Allow your Shopify customers the best delivery experience with eShipz. Our Shopify sellers love our intelligent application that helps in streamlining their order processing and help them grow.
Key Points to note:
It's highly flexible and easy to use, with many add-ons available to customize the user experience.
You don't need to be an expert to use Shopify – eShipz app, there's a very low bar of entry for store owners just starting out.
Well crafted for simplicity and scalability.
Eshipz is pioneer in managing shipping needs, generate pre-filled labels and print labels online. Further get the tracking numbers automatically updated in your store. We integrate directly with all leading eCommerce store platforms acting as multi-channel order management including Shopify and there is no limit to connect to multiple stores. Also get access to numerous options and our hybrid shipping solutions. We have customized options for every seller suiting their business needs.
We've supported merchants of all sizes and verticals to scale and drive sales through delighting their clients with a convenient and cohesive shipping experience.
Highlights of eShipz
1. Free Integration
Shopify opens up opportunities worldwide. Not just for selling but helps you position your brand globally and building a new customer base outside the nation.
Use your own carriers or 3rd party aggregator to ship your parcels through Shopify Store. Integrate your store with eShipz and let your orders flow and sync seamlessly and see the magic happen.
2. Level Up Your Shopify Shipping
Our Sellers like the idea that we help them streamline their shipping for great business outcomes.
3. Unlock Global Growth
Launch your Shopify store globally by fulfilling the orders of international customers like they are native. Our platform generates the right shipping documentation required and our courier partners ensure your shipments arrive safely.
4. Biggest Range Of Carrier network
Don't be limited by a few couriers. Use eShipz to access APIs of 50+ couriers and get the best rates for any destination country, no matter what or where you are selling.
5. Freight rates
Ship the orders without worrying, with your own negotiated shipping rates. Not more than that.
6. Remove Repetitive Tasks with Shipping Rules
Define Shipping Rules to customize your shipping as per your preferences and loss of time on manual efforts. With this feature you can set up specific rules to choose a courier based on consignee destination, type of product, weight of the product and more.
7. Improved supply chain visibility
eShipz quick tracking helps you track all parcels travelling through all your carrier network. We pull in the most accurate tracking from all your carriers into our tool, so you can see exactly where each shipment is on its delivery journey. With NDR-Non Delivery Report increase your delivery % by actioning on last mile delivery instructions, further reduce returns in eCommerce delivery.
8. We Have What Shopify Stores Need
Thousands of happy sellers use eShipz to help grow their business through better shipping. We have built an integration to Shopify that lets you enjoy the benefits of eShipz without any disruptions to the business flows you've built on the Shopify platform.
Although Shopify Shipping can help get your fulfillment up and running faster, it's worth noting that you may experience some limitations. However, eShipz can help you shipping on Shopify with ease.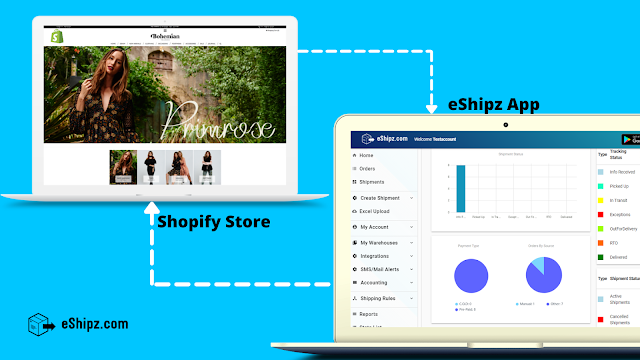 eShipz boosts your Shopify store with effortless shipping. Our powerful tool generates shipping labels, packing slips and customs paperwork for you with cloud technology. You just need to print what the courier requires. We will take care of the integrations with top eCommerce selling platforms and stores. Sync orders and push back fulfillment & tracking data without lifting the finger. When you automate your shipping, you will be able to take the complete stress out of the fulfillment process, all while saving time and cost.
Benefits of eShipz app for Shopify :
Reduced order processing time to 80%, print 1000 labels in less than a minute by automation.
Reduced overall shipping cost
Automatic allocation of tracking numbers
Sync Shopify orders with tags
Automatic pushback tracking details to Shopify store
Create reverse pickups, track returns etc
Generate GST invoice, product wise or order wise.
Automate NDR updates to carriers and reduce returns
Improved buyer experience with branded tracking page.
Customized and branded Email & SMS alerts to your buyers.
Reduce inbound calls / queries regarding orders with alerts.
Build loyal Customers and increase sales with repeated customers
Shipping labels for Thermal or normal printers.
Tracking widget is a convenient tool that helps your buyers to track their orders in your own platform.
Auto APIs Integration for multiple and leading courier companies like Bluedart, FedEx India, Ecom Express, FedEx International, Rivigo, DHL, UPS, Delhivery, Xpress Bees, India Post, DotZot, Gati, Aramex, DTDC, Spot on and many more.
How to start ? Here's how to integrate Shopify with eShipz.
Expand your eCommerce business by integrating our app with your Shopify store.
Sync your orders and everything needed to generate shipping labels seamlessly.
Generate all Shipping Documents for a successful shipment.
Connect your own couriers to eShipz and streamline your shipping process.
Our shipping analytics help you offer better service for your customers.
eShipz, revolutionizes shipping in a smart and simplified form by making use of cloud technology that enables shippers to reduce shipping cost and increase in Supply Chain Visibility. Try the most convenient shipping experience for Shopify stores today.